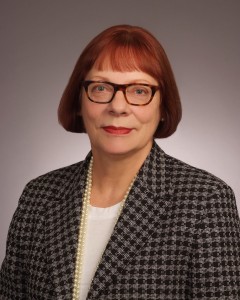 Keith Ann Stiverson, director of the IIT Chicago-Kent law library, has been elected vice president/president-elect of the American Association of Law Libraries (AALL). Stiverson will serve a one-year term as vice president that begins at the association's July 2014 meeting in San Antonio. Her term as president begins at AALL's July 2015 meeting in Philadelphia.
The American Association of Law Libraries was founded in 1906 to promote law libraries' value to the legal and public communities, foster the law librarianship profession, and provide leadership in the legal information field. With nearly 5,000 members, AALL represents law librarians and related professionals who are affiliated with law firms, law schools, corporate legal departments, courts, and local, state and federal government agencies.
"Law librarians are uniquely qualified to help the organizations we serve find new ways to meet the economic and technological challenges we face, and I am happy to have this opportunity to help lead the association at this critical time," Stiverson said.
Stiverson has been an active AALL member throughout her career. She has been especially involved in the association's efforts to ensure permanent public access to legal materials, and recently served on the Task Force on the Federal Depository Library Program.
"The association has selected an outstanding candidate," said IIT Chicago-Kent Dean Harold J. Krent. "Law libraries are facing many of the same financial challenges as law schools. Keith's wisdom and experience will be in much demand during her terms in office."
Stiverson came to IIT Chicago-Kent in 2001 from the University of Texas at Austin, where she served for five years as associate director of its law library. At IIT Chicago-Kent, she directs all library operations on the IIT downtown campus. Stiverson has also served as special assistant to the law librarian at the Library of Congress and spent several years on a special team created to improve the library's relations with Congress. She has also been an assistant librarian at Benjamin N. Cardozo School of Law.
Stiverson earned her law degree from Georgetown University Law Center, where she was publications editor of Law and Policy in International Business. She received a master's degree in library science from Catholic University of America and completed her undergraduate education at Rio Grande College in Ohio.