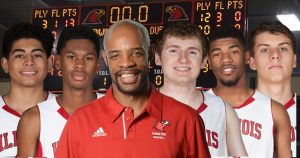 The Association of Division III Independents named its All-Independent basketball teams and individual honors for the 2017 season on March 10. Six different Illinois Tech Scarlet Hawks were honored by the association, with two student-athletes earning First Team honors, and three earning Second Team honors. Head Coach Todd Kelly was named Coach of the Year.
Senior Samuel Rarick (Chicago) was one of three forwards to be named to the First Team All-Independent and anchored the front court of the Hawks to a 22-6 record. Rarick averaged 16.7 points in 30.3 minutes per game, ranking top 10 in both field goal percentage (53.7%) and rebounds per game (7.2) for Division III Independents. He also ranked ninth in blocks with 1.1 per game and led the Hawks in free throw percentage (80.2%).
Anthony Mosley Jr. (Sophomore/Chicago) was also selected First Team All-Independent. The honor caps off a stellar sophomore campaign where he averaged 18.9 points per game (49.6% shooting), ranking him sixth in AD3I. He also averaged team-highs in minutes per game (35.5), assists per game (6.5), and steals per game (1.7). His 6.5 assists ranked him second in all of AD3I.
Jake Digiorgio (Sophomore/Ironwood, Michigan) was one of three Hawks to be selected Second Team All-Independent.  He was a force off the bench, averaging a double-double of 11.6 points and 10.2 rebounds on the season. His rebounding numbers ranked him second in AD3I, while his shooting percentage (54.8%) ranked third in the association.
Max Hisatake (Freshman/Las Vegas), the 6'7 center, was the only freshman named Second Team All-Independent. Hisatake started 25 games for the Hawks and ranked top 10 in D3 Independents in rebounds (8.6) and field goal percentage (52.4%) while ranking second in blocks per game with 2.4. He also averaged 8.0 points in just 21.8 minutes per game.
Combo guard Malik Howze (Sophomore/Detroit) capped off a great season by being selected Second Team All-Independent. Howze shot 38.6% from behind the arc, sixth in D3 Independents, and ranked top 10 in points (16.5) and assists (4.3) per game. He rounded out the stat sheet by averaging 1.3 steals and 4.4 rebounds per game all while averaging 35.3 minutes per game.
Kelly was named 2017 Coach of the Year after leading the Scarlet Hawks to one of the best turnarounds in recent Division III history. After going 4-21 last season, Kelly led the Hawks to a 22-6 season and advanced to the USCAA National Championship game. The Hawks led D3 Independents in field goal percentage (45.7%) while averaging 77.4 points per game. They also ranked top five in blocks (5.2), assists (14.3), steals (7.7), and rebounds (41.9) per game and first in free throw percentage (71.8%).