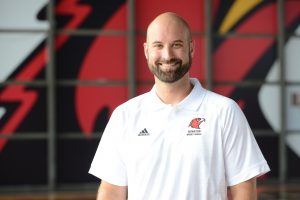 After guiding Illinois Tech women's lacrosse from a start-up program to a perennial Midwest Women's Lacrosse Conference championship contender, Kirk Lamitie has stepped down as head coach. He has accepted the position of head women's lacrosse coach at NCAA Division II Lewis University.
"I am extremely grateful to Joe Hakes and Illinois Tech for the chance to build a program and work with many great people and student-athletes," said Lamitie. "The success we were able to have is a byproduct of teamwork and some amazing student-athletes and leaders. I have no doubt the Illinois Tech athletic department is trending upward and women's lacrosse will continue to thrive as a program."
Lamitie started at Illinois Tech prior to the program's inaugural season of 2014. He guided the Scarlet Hawks to an improved win total each season, going from winless in 2014 to a 15-2 record and co-MWLC regular season champions in 2017. He was the MWLC's Coach of the Year in 2016 after an eight-win improvement. In his tenure, Lamitie coached eight All-MWLC First Team players, three All-MWLC Second Team players, and 16 MWLC All-Academic recipients, including 2017 Midfielder of the Year Madison Meredith and 2017 co-Attacker of the Year Alyssa DeLuca. Lamitie was also instrumental in the growth of Illinois Tech's Student-Athlete Advisory Committee.
"Kirk started a program from the ground up at Illinois Tech," said Director of Athletics Joe Hakes. "He has been a very strong recruiter, casting a wide net to find student-athletes who fit the university's academic requirements and play good lacrosse. The program has grown each year under his leadership and is on a good path to continue that. We wish him the best in his new position."
"We are appreciative of the great job Kirk did in turning a start-up program into one of the Midwest's top women's lacrosse programs," said Assistant Athletic Director Marc Colwell. "We have nothing but well-wishes for Kirk in his new position."
A national search for a new head women's lacrosse coach at Illinois Tech is underway.