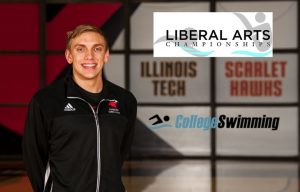 Jay Korhonen helped lead the Illinois Tech Men's Swimming and Diving team to a Senior Day win over Lake Forest College on February 3. For his efforts, the senior was named the Liberal Arts Conference Men's Swimmer of the Week by both the LAC and CollegeSwimming.com.
On February 3 Korhonen set season-best times in both the 100 Yard Breaststroke (1:01.86) and 200 Yard Individual Medley (1:15.83). He won both events, with his 100 Yard Breaststroke time besting the field by nearly six seconds. The swims helped the Scarlet Hawks push past the Foresters and finish the regular season with a 9-3 record in dual meets.
The Scarlet Hawks will now head to the Liberal Arts Conference Championships, which will take place at Luther College in Decorah, Iowa. The four-day event begins on Wednesday, February 14 at 7 p.m., followed by 10 a.m. preliminaries and 6 p.m. finals times on each of the next three days. Stay tuned to www.illinoistechathletics.com for news and links to any live coverage of the LAC Championships.