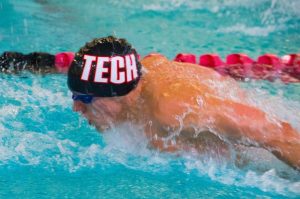 On February 3 the Illinois Tech Men's Swimming and Diving team hosted Lake Forest College in Keating Sports Center's Ekco Pool for the last home meet of the season. Sending seniors Jay Korhonen and Jason Voelker out in style, the Scarlet Hawks downed the Foresters 108-91 to build strong momentum heading into the Liberal Arts Conference Championships and ended the regular season with a 9-3 record in dual meets.
Meet Highlights
Korhonen was dominant, setting a season-best in the 100 Yard Breaststroke with 1:01.86 time, winning the event by nearly six seconds. He also won a strong 200 Yard Individual Medley race at 1:58.83, also a season-best.
Trailing Korhonen in the 100 Yard Breaststroke was his fellow senior, Voelker, who swam a season-best time of 1.07.27.
The Escasa brothers, Julian and Ryan, also stood out. In the 50 Yard Freestyle, Julian Escasa won with a time of 22.61s. Ryan Escasa was victorious in the 100 Yard Butterfly at 53.82s, beating his brother Julian by 0.06 seconds (53.88s).
In the 500 Yard Freestyle, Seth Wissenbach was victorious with a time of 4:59.38.
The 100 Yard Freestyle was a tight race, with Matthew Randle narrowly missing first place with a time of 50.90s.
Up Next
The Scarlet Hawks will compete in the Liberal Arts Conference Championships, which will take place at Luther College in Decorah, Iowa. The four-day event begins on Wednesday, February 14 at 7 p.m., followed by 10 a.m. preliminaries and 6 p.m. finals times on each of the next three days. Stay tuned to www.illinoistechathletics.com for news and links to any live coverage of the LAC Championships.