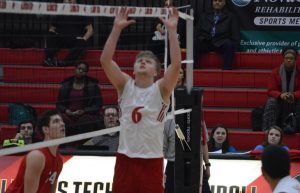 The Illinois Tech Men's Volleyball team played host to the Cardinals of North Central College in the back end of a Women's Basketball/Men's Volleyball doubleheader on February 7 in the Keating Sports Center. Illinois Tech battled the Cardinals neck-and-neck for most of the night, but came away short in four sets.
Set Scores
North Central 3, Illinois Tech 1 (15-25, 25-18, 18-25, 20-25)
How it Happened
It was a sluggish start to the night for the Scarlet Hawks, as Illinois Tech hit -.107% in the first set and trailed for most of the set's entirety. North Central utilized a 6-0 run late to build a 23-13 lead before closing the set out shortly after.
The Scarlet Hawks flipped the script in set two. After NCC took a small 5-4 lead, Illinois Tech went on a 7-0 run to go up 11-5. The Cardinals were able to pull to within one on three separate occasions, but the Scarlet Hawks put together a 6-0 run highlighted by three Lukasz Kupiec kills. Another Kupiec kill gave Illinois Tech its 25th and final point in the set victory.
Set three started much like set two ended, as the Scarlet Hawks went up 8-3 behind two Yuriy Shepta kills and forced the Cardinals to call two timeouts within the game's first 11 points. NCC, however, found a second gear, going on an 8-2 run to take a lead. The Cardinals never looked back en route to the set three win.
In set four, the Scarlet Hawks ended up taking the earliest significant advantage at 12-9. The Cardinals responded with an 8-1 run to take a 18-14 lead, but Illinois Tech came back to pull to within one at 24-20. However, the Cardinals took advantage of three attack errors down the stretch to clinch the match.
Scarlet Hawk Standouts
Kupiec recorded a triple-double with 11 kills, 13 assists, and 11 digs. His .320 hitting percentage also led Illinois Tech. It was his fourth straight double-double.
Andrew Woltman led the team with 16 assists.
Derek Bostick tallied a match-high 17 digs.
David Allen tallied eight kills and nine digs.
Stats to Know
Illinois Tech had more kills (38-37), but hit .037% compared to NCC's .171%.
Illinois Tech out dug the Cardinals 55-51.
NCC's advantages in blocks (5 solo, 11 assisted compared to Illinois Tech's two solo, four assisted) and aces (6-2) were instrumental to the Cardinals' win.
Up Next
The Scarlet Hawks will head to St. Louis on Friday, February 10 to take on the Fontbonne University Griffins at 5 p.m. Live video and stats will be available courtesy of Fontbonne.