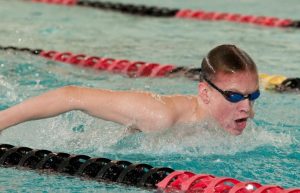 The Illinois Tech Men's Swimming and Diving team competed in its last dual meet prior to the Liberal Arts Championships scheduled for early February. Illinois Tech was defeated at Lake Forest College 145-82.
Meet Highlights
Karsen Diepholz continued his strong freshman campaign with a win in the 200 Meter Freestyle (1:59.36). Diepholz also placed second in the 100 Meter Backstroke with a time of 1:05.25. 
Brendan Howley's record-breaking season continued with another breaststroke victory. He won the 100 Meter with a time of 1:05.77. He also placed second in the 100 Meter Freestyle (55.01s).
Jay Korhonen (9:06.03) and Zachary Bonson (9:09.55) placed first and second in the 800 Meter Freestyle.
The 200 Meter Medley Relay team of Ryan Lakner, Howley, Julian Escasa, and Luke Workman placed second with a time of 1:52.05.
Escasa followed up his relay swim with second-place finishes in the 50 Meter Freestyle (25.18s) and 100 Meter Butterfly (1:00.46). Workman also followed suit with a second-place 200 Meter Individual Medley swim (2:25.03).
The 200 Meter Freestyle Relay team of Korhonen, Bonson, David Polzin, and Diepholz placed second with a time of 1:47.41.
Up Next
The Scarlet Hawks will compete in the Liberal Arts Championships from Wednesday, February 8 through Saturday, February 11. The four-day meet will take place at Principia College in Elsah, Illinois.