IIT Days are back at Six Flags Great America!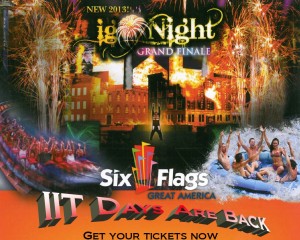 Tickets are available now for only $29 each and can be used on any one day during the period from Thursday through Monday, August 8–12.
Here are some frequently asked questions about IIT Days:
Q: How many times can I use my ticket?
A: Each ticket can be used one time.
Q: How many tickets can I buy?
A: There is no limit on the number of tickets you can purchase.
Q: Is there a deadline to purchase tickets?
A: Tickets can be purchased and picked up until 6:00 pm on Thursday, August 8.
Q: Is parking included in the price?
A: No.
Q: Is transportation included?
A: No. We do not provide transportation.
Q: Does this price include the water park?
A: Yes, admission to Hurricane Harbor is included.
Q: Can I buy tickets on Saturday or Sunday?
A: Tickets can be purchased online at any time, but they must be picked up during office hours.
Q: Who can buy tickets?
A: Any IIT/IITRI faculty, staff or student can buy these tickets. For validation purposes, your IIT/IITRI email account should be used when contacting us.
Q: How can I pay for tickets?
A: You can now submit your check or credit card payments online at the QWL payment site.
Q. I'm not at Main Campus. Can you mail my tickets to me.
A. No. We will not mail tickets.
Q. Where do I pick up my tickets?
A. All tickets must be picked from Leslie Goodloe on Main Campus, unless other arrangements have been made in advance.