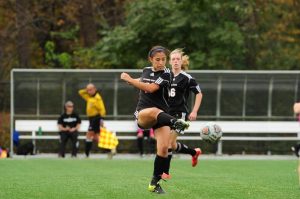 The Illinois Tech Women's Soccer team hosted an October 2 contest at Stuart Field against Lakeland. A late rally gave the Scarlet Hawks a 3-2 win in overtime.
How It Happened
The Muskies led early on, scoring in the 26th minute to take a 1-0 lead. It was the only goal scored for either team in the first half.
Illinois Tech tied things up in the 53rd minute with Kirsten Robinson scoring off of a Daisy Tellez pass.
Just three minutes later, Lakeland would score again to re-take the lead at 2-1.
With time winding down, the Scarlet Hawks turned to leading goal scorer Anida Phetchanpheng. She delivered in the clutch, scoring in the 88th minute off of a Robinson pass to tie the score and send the match to overtime.
In overtime, it was Phetchanpheng providing the offense once again. With just 12 seconds remaining, the senior scored to give Illinois Tech the 3-2 win.
Scarlet Hawk Standouts
Phetchanpheng scored twice on six shots and three shots on goal.
Robinson led the Hawks with nine shots while adding a goal and an assist.
Tellez recorded an assist.
Madison Harris attempted three shots.
Jessica Park made two saves in the win.
Stats to Know
The Scarlet Hawks outshot Lakeland 30-8.
Illinois Tech committed 14 fouls compared to Lakeland's seven.
Illinois Tech attempted six corners. The Muskies attempted two.
Up Next
The Scarlet Hawks will host Concordia Chicago on Thursday, October 6 at 7 p.m. at Stuart Field. Live audio, video, and stats will be available. The live broadcast will be powered by Illinois Media School.