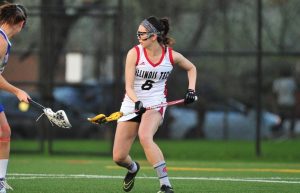 After four ties and four lead changes, the Illinois Tech Women's Lacrosse team managed to pull off a thrilling victory on April 22. Moving to 14-2 overall and 9-1 in Midwest Women's Lacrosse Conference play, the Scarlet Hawks defeated a tough Aurora University squad 9-8 in overtime, marking the team's third overtime win this season.
How it Happened
Aurora had the momentum to start off the match, shutting down the Hawks offense over the first 15 minutes while building a 3-0 lead.
Illinois Tech managed to inch closer with goals courtesy of Alyssa DeLuca (14:49) and Jennifer Young (13:58), but the Spartans struck again at the 11:25 mark to move back up by two.
The Scarlet Hawks jumped ahead thanks to a couple of player-advantages. Madison Meredith scored on two man-up opportunities before DeLuca scored for a second time to take a 5-4 lead with 4:42 to play in the first half.
After AU answered to tie the score just before halftime, DeLuca answered with goals at the 25:28 and 13:47 marks in the second half, giving Illinois Tech its largest lead of the contest at 7-5.
Aurora was impressive down the stretch, going on its second 3-0 run of the contest. Andrea Colford, who scored five times during the match, scored all three of those second-half goals for AU. Illinois Tech trailed 8-7 with 3:04 remaining.
With time winding down, Aurora committed a costly turnover with just six seconds to play, giving Illinois Tech possession in the offensive zone. Meredith managed to fire a tough pass to Isabella Rubin, who scored with just 0.8 seconds remaining to tie the score at 8-8.
In overtime, Aurora had the first chance, but missed a shot wide. Young then caused a turnover, picked up the ground ball, cleared possession, and zoomed a shot past the goalkeeper into the net for a Scarlet Hawk victory.
Scarlet Hawk Standouts
Young was all over the field, scoring the game-winner to go along with one additional goal, three ground balls, and three caused turnovers.
One of Meredith's two assists came on the game-tying goal in regulation. She also had two goals and a game-high five draw controls.
Rubin's lone goal of the afternoon was the game-tying tally in regulation. She racked up two assists, three ground balls, and three draw controls as well.
DeLuca led the Scarlet Hawks with four goals, giving her 76 on the season.
Stats to Know
Draw controls were key in this contest, as the Scarlet Hawks held an 11-7 advantage.
Yellow cards also played a factor, with Aurora amassing five compared to just one for the Scarlet Hawks.
AU outshot the Scarlet Hawks 21-20.
Up Next
Illinois Tech wraps up the 2017 season on Saturday, April 29 with a matchup against Beloit College. A win for the Scarlet Hawks in the 1 p.m. match at Stuart Field would give the team sole possession of second place in the MWLC. Live audio, video, and stats will be available. The live audio will be powered by Illinois Media School.