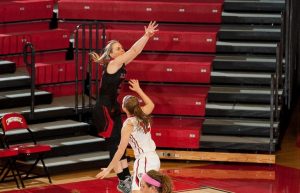 The Illinois Tech Women's Basketball team hit the road on January 16 for a contest at Grace Bible College in Michigan. Illinois Tech hit the 70-point mark for the second straight contest, falling to the Tigers 85-74.
How it Happened
Grace Bible took an early lead, doubling up the Hawks at 16-8 over the first 5:13, but the Scarlet Hawks closed the first quarter out on a run. Six straight Shannon O'Donnell points were followed by baskets on Illinois Tech's next four possessions, three of which were Madison Davis three-pointers. The scoring burst put Illinois Tech ahead 23-20 after one.
The first seven minutes of the second quarter featured three lead changes and five ties. Grace took the halftime advantage thanks to some great long-range shooting of its own, and the Tigers went into the intermission up 41-37.
In the third quarter, the Scarlet Hawks cut away at the deficit. Illinois Tech was able to tie the score on an Erin Efimoff jumper (50-50, 3:40 left) and another Davis three-pointer (53-53, 3:05), but was unable to sneak past the hosts. A big momentum shift occurred over the quarter's final 17 seconds, as the Tigers hit two three-pointers to move from a two-point lead to a 65-57 advantage heading into the fourth.
Grace built its lead up to 13 early in the last quarter, but the Scarlet Hawks trimmed the lead to seven before both teams hit a long scoring drought of nearly 2:30. The Tigers responded by building its lead up to 16 with 3:27 to play at 83-67. Illinois Tech scored seven points the rest of the way, but Grace managed to hang on for the win.
Scarlet Hawk Standouts
The dominant freshman campaign of O'Donnell continued. She had 27 points to go along with eight assists and six rebounds, getting to the foul line an impressive 12 times. It was her fifth 20-point day of the season (as well as fourth over her last five games) and the sixth time she attempted double-digit free throws in a game.
Davis was fantastic from the outside, making five three-pointers en route to 17 points. She also had six rebounds and three steals.
Efimoff had 15 points on a stellar 7-of-9 shooting night.
Stats to Know
Shooting percentages were nearly even, with Grace narrowly outshooting Illinois Tech 43.8% to 43.3%.
Rebounds (41-39 Grace) and turnovers (19-20 Tech) were also nearly even.
Grace's biggest advantage was from beyond the arc, as the Tigers hit 15 three-pointers compared to Illinois Tech's five (all from Davis).
Up Next
Illinois Tech will play at Robert Morris-Springfield on Saturday, January 20 at 1 p.m.