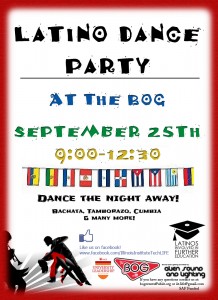 Latinos Involved in Further Education (LIFE) will host a night of celebration for Hispanic Heritage Month, 9 p.m.-12:30 a.m. on Thursday, September 25, 2014 in The Bog in Hermann Hall on the lower level. The Latino Dance Party features DJ Tapia who will spin music by Latin favorites such as Bachata, Merengue, Cumbia and more.
Events surrounding National Hispanic Heritage Month run September 15 to October 15, 2014. They recognize the contributions made by Hispanic and Latino Americans to the United States and celebrate their heritage and culture.
This event reflects the values expressed in IIT's Diversity Statement and is intended to promote diversity at IIT.