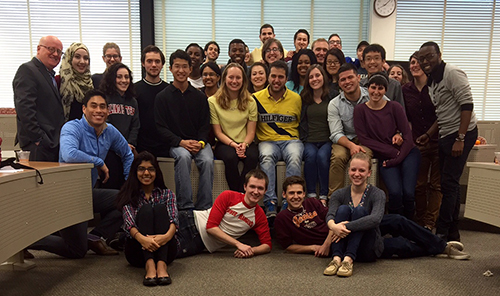 The M. A. and Lila Self Leadership Academy is pleased to announce that nine new students have been accepted into the academy. These first- and second-year students will join an existing cohort of 24 Leadership Academy scholars at Illinois Institute of Technology.
"This is an exceptionally talented group of students who possess an incredible amount of leadership potential," says George Langlois, executive director of the Leadership Academy. "We are looking forward to helping them further develop their leadership skills and watching them contribute these talents to the Illinois Tech community over the next few years."
Founded in 2000 and housed within the new Center for Leadership Studies, the Leadership Academy is an undergraduate education initiative that trains students to be capable leaders and empowers them to inspire the same in others. Sponsored through generous gifts from M. A. and Lila Self, and John Mitchell, the academy works to create and implement an effective leadership-development program for all undergraduate students at Illinois Tech; promote a culture of leadership and innovation across the Illinois Tech community; identify, develop, and support students with exceptional leadership potential, and evaluate leadership development outcomes at the individual and program levels.
More information about the Leadership Academy is available at: leadership.iit.edu/leadership-academy.