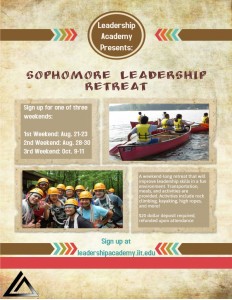 Illinois Institute of Technology Leadership Academy will be hosting weekend-long retreats this summer and fall that will improve leadership skills in a fun environment at Pretty Lake Adventure Centre in Mattawan, Michigan. Transportation, meals, and activities will be provided. Activities include rock climbing, kayaking, high ropes, and much more.
A $20 deposit is required, but it will be refunded upon attendance.
Dates:
First Weekend: Friday, August 21, through Sunday, August 23, 2015
Second Weekend: Friday, August 28, through Sunday, August 30, 2015
Third Weekend: Friday, October 9, through Sunday, October 11, 2015
Sign up here.