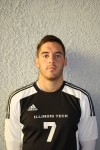 To heck with hat tricks.  Illinois Institute of Technology's Liam Barrett (Felixstowe, England) did one better not once, but twice during the week ending October 14.  The senior forward and 2010 Chicagoland Collegiate Athletic Conference Player of the Year had a hand in on four goals in one game and tallied all four of his team's goals in another contest to earn CCAC Men's Soccer Offensive Player of the Week honors, the conference announced Tuesday.
Barrett produced one goal and three assists in Illinois Tech's 8-1 victory over University of St. Francis on Tuesday before providing all the offense in the Scarlet Hawks' 4-3 overtime win versus Trinity Christian College on Saturday.  Included in the latter count was IIT's game-winning goal three minutes into the extra session against the Trolls.
Barrett's five-goal, three-assist week added to his league-leading numbers for the season where he ranks first in both total goals (15) and total points (36).  In the nation, he ranks eighth in points and tenth in goals.
Illinois Tech's two victories put the Scarlet Hawks at 7-5-2 overall and 4-1-2 in the conference, one point behind Robert Morris in fourth place.