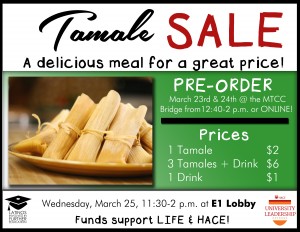 Support Latinos Involved in Further Education (LIFE) and Hispanic Alliance for Career Enhancement (HACE) in their second fundraiser of the semester on Wednesday, March 25 at noon in the E1 Building lobby. They will be selling tamales and beverages. Take a break from your routine lunch with this popular Mexican favorite. Prices are detailed in the flyer.
Credit cards will be accepted.
This event reflects the values expressed in IIT's Diversity Statement and is intended to promote diversity at IIT.