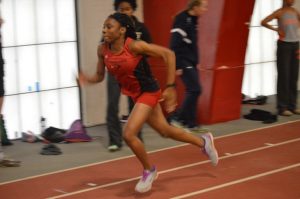 The Illinois Tech Scarlet Hawks competed at the University of Chicago on February 4 in one of the team's largest meets of the season. Illinois Tech placed 13th in the event and received some strong individual performances.
Meet Highlights
Two Scarlet Hawks placed in the Top 10 in the Long Jump. Mminika Effiong tied for eighth at 4.78m, while Emmalee Ciriacks placed 10th at 4.78m.
Effiong followed up her long jump performance with a great 200 Meter Dash time of 30.51s. She placed 27th in the event.
Both Julia Briden (2:41.59, 23rd) and Maria Garcia (2:55.43, 29th) placed in the Top 30 of the 800 Meter Run.
Up Next
Illinois Tech will return to University of Chicago on Saturday, February 18 for the Margaret Bradley Invite.