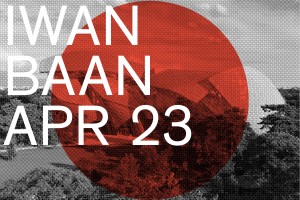 Louis Vuitton, the City of Chicago's Department of Cultural Affairs and Special Events, and IIT Architecture Chicago invite you to a special evening featuring the announcement of the 2015 Louis Vuitton SPARK Award winner and a special presentation by architectural photographer and SPARK award juror, Iwan Baan, on Thursday, April 23, 2015, at 6:30 p.m. in S.R. Crown Hall.
Baan's lecture will begin at 6:30 p.m., followed by the SPARK Award announcement at 7:15 p.m. A reception will follow at 7:30 p.m.
RSVP here.
The Louis Vuitton SPARK Award, sponsored by Louis Vuitton and the City of Chicago's Department of Cultural Affairs and Special Events, honors an outstanding student from the College of Architecture's undergraduate and graduate Cloud Studio program reflecting the College's focus on the City of Chicago and "Rethinking Metropolis."
The recipient of the annual Louis Vuitton SPARK Award will travel to Paris to meet with the Louis Vuitton architecture department responsible for the designs of Louis Vuitton boutiques around the world. The winning project will also be featured in an installation in the Louis Vuitton store on Michigan Avenue in Chicago later this fall.
The jury is comprised of Michelle T. Boone, commissioner, cultural affairs and special events, City of Chicago; T. Lyle Barnes, director of stores, Midwest & Boston, Louis Vuitton Americas; Daniel Paltridge, senior VP/Louis Vuitton North America; John Mulliken, VP/store planning and development, Louis Vuitton Americas; Wiel Arets, dean of IIT's College of Architecture, and Iwan Baan, architectural photographer.
Finalists for the Louis Vuitton SPARK Award 2015 include:
Branded Identity: Of the Chicago Bus System
by Jennifer Pisano and Suzanne Stawiarski
Gridland
by Myles Pena, Jacob Harney
Naive Intention: Procession
by Ferdinand Kuznik
Office Space: The Future of Work + Life
by Su Jeong Lee, Eric Schwartzbach, Francisco Alvarez
Setting The Stage: The Weft
by Ricardo Fernandez
W.E.T. Zone: Effluent Reuse for Industrial Growth
by Sarah Hanson, Heidi Petersen, Andrew D'Arcy