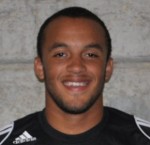 Former Illinois Tech men's soccer captain Luke Blakely signed with the USL Pro League's Barracuda FC in Antigua this season. Blakely, a midfielder and defender, from Leicester, England has appeared in 7 of the teams 8 games this season.
The 11-team USL Pro League has teams in Antigua, Charlotte, Charleston, Dayton, Harrisburg, Los Angeles, Orlando, Pittsburgh, Richmond, Rochester, and Wilmington.
Blakely played for Illinois Tech from 2008-2010 and lead the team to a conference regular season championship in his senior season.