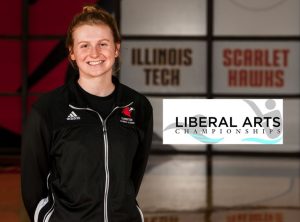 The Liberal Arts Conference recently awarded Katherine Lydon with the Women's Swimming and Diving Weekly Award. She was dominant during Illinois Tech's meet against Carroll in Wisconsin January 20.
The sophomore competed in three races against the Pioneers, winning two and placing second in the other. Lydon narrowly missed the top spot by half of a second in the 200 Yard Freestyle with a time of 2:03.85. She took first place in the 500 Yard Freestyle by more than eight seconds (5:32.03) and helped propel the 400 Yard Freestyle Relay team to first place by a margin of eight seconds (3:54.03).
This is the first weekly award for the Missouri native this year. Lydon and the rest of the Scarlet Hawks will face Lake Forest on Saturday, February 3 at 1 p.m. at Ekco Pool.