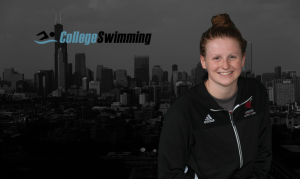 Thanks to an impressive and record breaking meet at the University of Chicago's Phoenix Fall Classic, Katherine Lydon has won another Swimmer of the Week honor. She earned the award from Collegeswimming.com for the Liberal Arts Conference.
The freshman had one of the best individual meets for Illinois Tech amongst some of the region's top competition. She set new school records in the 500 Yard Freestyle (5:05.74) and 1650 Yard Freestyle (18:20.66), placing ninth and 13th in those events. Her times in both of those races, along with her time of 4:42.40 (fifth place) in the 400 Yard Individual Medley, all sit atop the Liberal Arts Conference leaderboard.
Lydon was also a part of two relay teams that set top LAC times in the 400 Yard Medley Relay (4:10.88, seventh place) and 800 Yard Freestyle Relay (8:13.85, seventh place). Her 200 Yard split of 1:56.84 in the 800 Yard Freestyle Relay also holds the top conference spot. Illinois Tech placed sixth out of 14 teams at the meet.
The Scarlet Hawks have the weekend off from competition, but will be back in action on Saturday, December 3 when they host the Ted Erikson Invite at 1 p.m. in the Keating Sports Center's Ecko Pool. Live video will be available for the event.