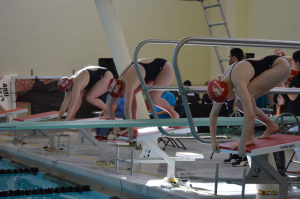 The Illinois Tech Women's Swimming and Diving team competed at the University of Chicago's Phoenix Fall Classic, taking on some of the region's top competition. The Scarlet Hawks placed sixth out of 14 teams with a score of 196.5.
Scores
Chicago, 972.5
Depauw, 519
Hillsdale, 421
William Jewell, 391
Olivet Nazarene, 314
Illinois Tech, 196.5
McKendree, 183
Hope, 153 and Lincoln, 153
Lake Forest, 102
North Central, 79
Saginaw Valley State, 59
Wheaton, 43
Carthage, 25
Meet Highlights
Katherine Lydon put together one of the best individual meets for an Illinois Tech swimmer in recent memory, setting numerous school records and top Liberal Arts Conference times. The freshman set new school top marks in the 500 Yard Freestyle (5:05.74, ninth place) and 1650 Yard Freestyle (18:20.66, 13th place). Both times currently sit atop the LAC's leaderboard, as does the 400 Yard Individual Medley (4:42.40, fifth place).
The Scarlet Hawks also set top LAC times in two relays. The team of Jasmine Duke, Brigitte Temple, Kristin Wills, and Lydon placed seventh in the 400 Yard Medley Relay. Illinois Tech also placed seventh in the 800 Yard Freestyle Relay (Lydon, Briana Tyler, Wills, and Duke) with a time of 8:13.85. In addition to the relays setting new LAC top marks, Lydon's 200 Yard split of 1:56.84 in the 800 Yard Freestyle Relay also holds the top conference spot.
Temple reached the finals in three events and holds one top LAC time after the weekend. Her second-place finish in the 200 Yard Breaststroke (2:26.11) is the conference's best. She also reached the finals in the 400 Yard Individual Medley (4:46.86, seventh place) and 100 Yard Breaststroke (1:10.34, 14th place).
Duke placed 10th with a strong showing in the 50 Yard Freestyle, finishing with a time of 25.14s.
Wills recorded a great 400 Yard Individual Medley swim, reaching the finals and finishing 12th with a time of 4:57.46.
Tyler's 100 Yard Butterfly time of 1:03.21 earned her a 14th place finish.
Emma Prager placed 16th in the 200 Yard Breaststroke with a time of 2:33.71.
Quote from the Coach
"To have this many great swims this early into our season is very promising. We look very good, and are excited to carry this momentum through the rest of the year."
Up Next
The Scarlet Hawks will have a weekend off from competition before hosting the Ted Erikson Invite on Saturday, December 3 at 1 p.m. in the Keating Sports Center's Ekco Pool. Live video will be available for the event.