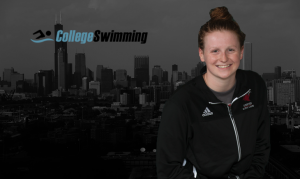 Another strong performance on November 5 for the Illinois Tech Women's Swimming and Diving team has notched Katherine Lydon Player of the Week honors from Collegeswimming.com for the Liberal Arts Conference. This is Lydon's second straight weekly award after winning Liberal Arts Conference Swimmer of the Week last week.
The first-year swimmer put together an impressive meet, as she won both the 500 Yard Freestyle (5:22.81) and 1000 Yard Freestyle (11:00.11, a personal best). Lydon won the 1000 Yard Freestyle by almost a full minute. She was also a part of the 400 Yard Freestyle Relay team that placed first with a time of 3:52.53.
Illinois Tech is back in action on Saturday, November 12 as Illinois Wesleyan and Carthage visit the Keating Sports Center Ecko Pool. Live video will be available for the 1 p.m. meet.