The IIT Architecture Chicago Fall Lectures 2013 Series presents Dominique Perrault, an architect at DPA Dominique Perrault Architecture in Paris who will discuss, "The Disappearance of Architecture:Between Presence and Absence, at 6:30 p.m. on Tuesday, October 8, 2013 in Crown Hall Center Core.
A major figure of French architecture, Perrault gained international recognition after winning the competition for the National French Library, Paris, in 1989 at the age of 36. This project marked the starting point of many other public and private commissions abroad, such as the Velodrome and Olympic Swimming Pool, Berlin (1992), the extension of the European Court of Justice, Luxembourg (1996), the Olympic Tennis Centre, Madrid (2002), the Ewha Women's University campus (see photo)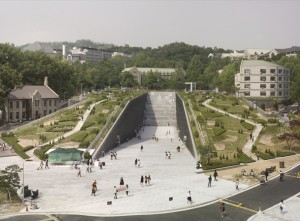 , Seoul (2004), the Fukoku Tower, Osaka (2010), and the Pasarela del Arganzuela footbridge in Madrid (2011).
This lecture is free and open to the public. For more information, call 312.567.3312 or email.