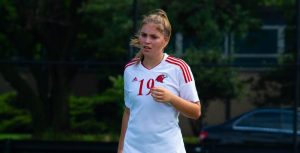 The Illinois Tech Women's Soccer team downed Milwaukee School of Engineering 2-0 on September 22. Illinois Tech moved to 7-0-1 overall and 2-0 in Northern Athletics Collegiate Conference (NACC) play, while the Raiders fell to 4-5 overall and 1-1 in the league.
How it Happened
MSOE, last year's NACC regular season champion, came out strong and attempted the match's first shot on goal. But the Scarlet Hawks took the next three, all of which were saved by Raiders goalkeeper Abbie Lorenz.
In the 27th minute, Illinois Tech's offense broke through thanks to the play of Jamie Griggs and Katie Hoefgen. The two ran a give-and-go play, with Griggs finding Hoefgen through the box from eight yards out. It was Griggs' fourth assist and Hoefgen's ninth goal of the season.
The Scarlet Hawks kept up the offensive pressure throughout the half, as Lorenz stopped six shots in the half.
After halftime, the Raiders attempted four shots over the first 20 minutes, but two were saved by Illinois Tech's netminder Catherine Klemp. The other two were both wide.
Hoefgen netted her 10th goal of 2018 off a double-assist in the 76th minute. The tandem of Erin James and Caeli Kennedy were able to get the senior a great opportunity and give the Scarlet Hawks a 2-0 lead.
Illinois Tech's defense continued to hold strong down the stretch. The Raiders took just one shot, which went wide, over the final 14 minutes.
Scarlet Hawk Standouts
Hoefgen took three shots, all of which were on net, for her two goals.
Klemp faced four shots and saved them all to bring her record to 6-0-1 in her freshman campaign. Her save percentage is now .800%.
Griggs attempted a shot on goal to go along with her assist.
Both James (two shots on goal) and Kennedy (one shot) each recorded an assist for the first time this year.
Stats to Know
The Scarlet Hawks outshot the Raiders 14-9, holding the opponent to single-digit shot attempts for the fifth time this season.
This is the deepest Illinois Tech has gone in a single season without a loss according to the current Illinois Tech Athletics record book (dating back to 2004).
Illinois Tech is one of four teams off to a 2-0 start in conference, with the other three being Dominican University, Wisconsin Lutheran College, and Concordia University Wisconsin.
Up Next
The Benedictine University Eagles visit Stuart Field for a Women's Soccer home conference opener on Wednesday, September 26 at 7 p.m. Live audio, video, and statistics will be available. The live audio will be powered by Illinois Media School.