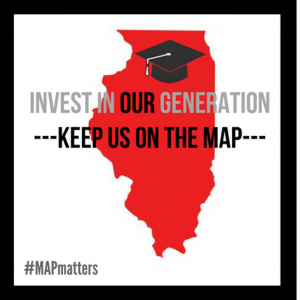 WHO: For student leaders from Illinois public, private, and community colleges and universities, as well as government relations, media relations, and financial aid staff members.
WHAT: This summit will give student leaders an opportunity to join a statewide coalition of grassroots advocacy on behalf students who receive MAP grants.
Participants will:
Learn valuable advocacy tools for engaging legislators
Be able to coordinate their institution's efforts with others
Have the opportunity to network with fellow student leaders
Play an instrumental role in saving MAP Grants
Sessions will include:
"How to tell your story" using video, and in-person contacts
Panel of Elected Officials offering tips for effective advocacy
Joint MAP Advocacy initiatives planned for November, December, and January
Both a continental breakfast and lunch will be provided.
WHEN: Saturday, October 29.
9 a.m.: Check-In and Registration
10 a.m.: Summit Begins
2:30 p.m.: Summit Concludes
WHERE:  Loyola University Chicago, Water Tower Campus, Kasbeer Hall, 15th Floor, Chicago
Click here to register for this event. 
For questions, or to volunteer, contact Maria Ralenkotter at govaffairs@luc.edu or 773.426.3849.