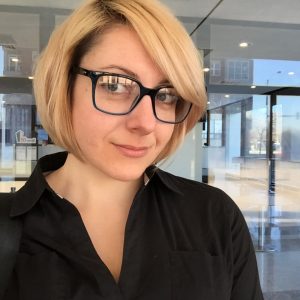 Marie Hicks, assistant professor of history, delivered a keynote presentation at the conference, Shift CTRL: New Perspectives on Computing and New Media. The conference was hosted by the Stanford Humanities Center at Stanford University on May 6-7, 2016.
Her address, "Not Science Fiction: The Making of a Feminized Machine Underclass at the Dawn of the Electronic Age in Britain, 1948-1965," was part of a larger discussion that explored changing the way we write about the history of computing. For years, scholars have studied the impact of digital computing and new media in transforming the social, political, cultural and economic landscapes in Western Europe and the United States, but far less is known about the historical and cultural impact of computing and new media in other regions of the world such as Asia, Africa, Eastern Europe, Latin America, and the Middle East. The conference also looked at how computing and new media can engage meaningfully with questions of gender, culture, language, ethnicity and class.
The conference gained quite a bit of interest on Twitter with the hashtag #shiftCTRL. Hicks created a Storify collection of the hashtag mentions to capture the conversation on Twitter that is available for viewing online.