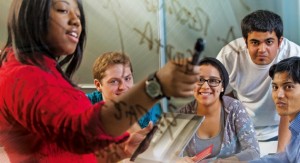 Do you consider yourself a model IIT student?
The IIT Office of Marketing and Communications is looking for student models for photos and videos that will be used in print publications, email blasts, and on the IIT website to help market the university to prospective students. It's very easy to participate. Students from all levels—undergraduate to graduate and Ph.D.—who feel comfortable in front of a camera or video camera are encouraged to submit information. This is your time to show your pride in IIT!
A database of all student submissions will be on file in Marketing and Communications. All students who are in good standing with the university are eligible to apply. Students will be selected for a specific photo shoot based on the needs of the project, such as a brochure designating specific majors or featuring a background of social activities. Students in the database will be contacted when photo and video opportunities arise. So long as your course load permits, you will be scheduled for the photo shoot.
To participate, submit your photo to marketing@iit.edu (no group shots, please) along with your full name and student ID, and complete this online submission form. Please note that this is a nonpaid position and is on a volunteer basis.
Feel free to contact Denise Moriarty, senior director of marketing, at dmoriar2@iit.edu with questions you may have.
Go Hawks!