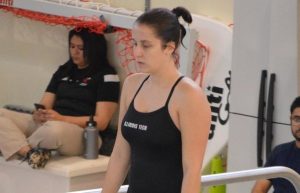 The 2017 Liberal Arts Championships began on February 8 at Principia College with the 1 Meter Diving preliminaries and finals. All three Illinois Tech divers performed well, with Paige Mass reaching the finals.
Mass placed eighth in the preliminary round with a score of 307.50 to qualify for the final round. She placed eighth in the finals with a score of 282.65.
Also performing well in the preliminary round were Christian Jones (12th place, 258.05) and Elly Shin (14th place, 245.10). The scores of all three Illinois Tech divers were season-bests.
The LAC Championships continue through Saturday, February 11. Both the Illinois Tech men's and women's teams will have participants in the 200 Yard Freestyle Relay, 500 Yard Freestyle, 200 Yard Individual Medley, 50 Yard Freestyle, and the 400 Yard Medley Relay.