Meaghan Fontein, a third-year student at Chicago-Kent College of Law at Illinois Tech, has won the International Trademark Association's 2018 Ladas Memorial Award for her article "Digital Resurrections Necessitate Federal Post-Mortem Publicity Rights." Each year, two law or graduate student authors worldwide are selected for the award, which honors the best papers on trademark law or related matters.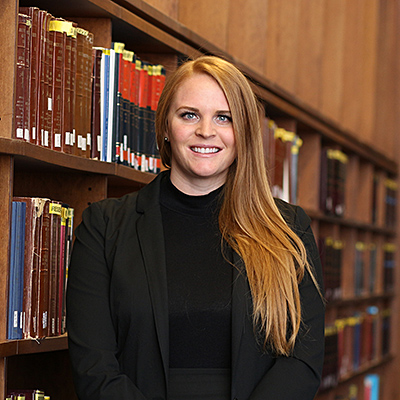 In her award-winning article, Fontein addresses the recent phenomenon of "digital resurrections" and the lack of intellectual property protection for misappropriating a deceased celebrity's likeness. She wrote the paper under the guidance of Graeme Dinwoodie for his spring 2017 seminar on Advanced Trademarks. The article was published in the September 2017 issue of the Journal of the Patent and Trademark Office Society and is under consideration by The Trademark Reporter, the legal journal of the International Trademark Association. (The September 2017 issue of Journal of the Patent and Trademark Office Society is available through HeinOnline.)
Last year Fontein, along with her teammates Catherine Larson '17 and Francyn Brown '18, won the 2017 Saul Lefkowitz Moot Court Competition's Chicago regional championship and regional best-brief award. The team placed fourth overall in the national finals and had the third-place best brief. This year, she and her teammate Samantha Ruben'19 reached the final four at the 2018 Evan A. Evans Constitutional Law Moot Court Competition.
At Chicago-Kent, Fontein is a research assistant for The Free Internet Project, founded by Edward Lee, director of the Chicago-Kent Program in Intellectual Property Law. She is a member of the law school's Moot Court Honor Society and serves as vice president of the Art and Cultural Property Law Society. In 2016, she was a summer associate at the law firm of Ruberry, Stalmack & Garvey LLC. Currently, she is a law clerk at the law firm of Adler, Murphy & McQuillen LLP.
Fontein graduated from Saint Mary's College in Indiana with a bachelor's degree in communications and public relations. For four years, she was a member of the college's golf team.
Chicago-Kent offers a J.D. certificate program in intellectual property law and is the only American law school to offer a one-year LL.M. degree in international intellectual property law. Chicago Kent's Program in Intellectual Property Law is currently ranked first in the country by Law Street Media and ninth by U.S. News & World Report.