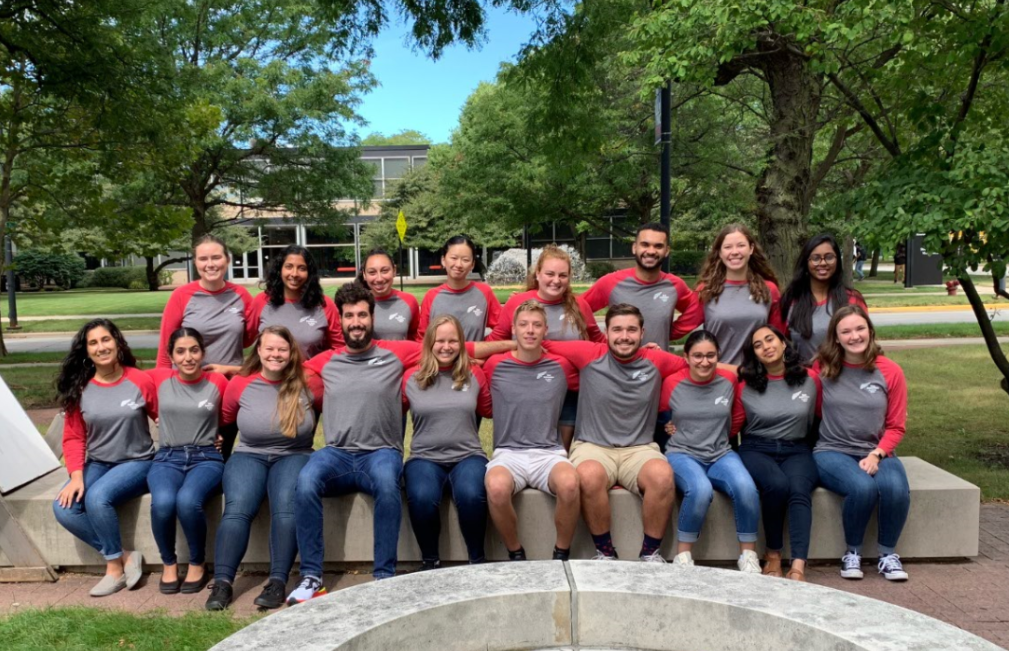 Meet Your Hawk Ambassadors
The Illinois Tech Hawk Ambassadors are a dynamic student organization that works with the Office of Undergraduate Admissions to introduce prospective students to Illinois Tech. These active student leaders represent Illinois Tech and show off their Scarlet Hawk pride by giving campus tours, meeting with prospective students, and representing our university at different events around campus.
The Hawk Ambassadors, which consist of current undergraduate students representing different majors, classes, and student clubs, remember how overwhelming the college application process felt.
In addition to helping prospective students with the college decision process and making new friends, our Hawk Ambassadors are able to build leadership skills that will help them grow in their careers.
"Being an ambassador is the one job where not only do you learn, but it also gradually brings good changes to your interpersonal skills. I used to be quiet at public speaking, but now I'm able to give tours to 40 people without a problem," said Senior Hawk Ambassador Nosheen Iqbal. "As an international student, it also helps me learn more about American culture. I am loving it."
Recruitment for Illinois Tech Hawk Ambassadors and Junior Hawks happens each semester. We're proud of these students and the positive impact they bring to the Illinois Tech community and future Scarlet Hawks! 
Front row (from left to right): 
Devdhi Kasana (4 YR), Maanya Puri (2 YR), Brianna Bransfield (4 YR), Hani Salameh (4 YR), Alexandra Bajor (2 YR), Jacob Westerhoff (2 YR), Jared Knaub (2 YR), Nosheen Iqbal (3 YR), Devyani Gauri (3 YR), Maddy Urig (4 YR)
Back row (from left to right): 
Mairead Murphy (2 YR), Dheeksha Ranginani (3 YR), Alysia DeSimone(3 YR), Joyce Lam (2 YR), Willa Vigneault (2 YR), Ryan Crawford (2 YR), Shannon O'Donnell (3 YR), Somya Mittal (2 YR)
Not pictured:
Emily Piszczek (3 YR), Jack Pio (2 YR), Nicole Amon (4 YR)