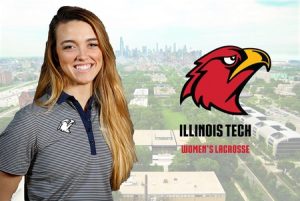 Illinois Tech Athletics is happy to introduce Meghan Brady as the second Head Women's Lacrosse Coach in program history. Brady will begin immediately and brings energy and experience to an already successful team culture.
"Meghan's interview for the position was very impressive," said Director of Athletics Joe Hakes. "She talked about building team culture through hard work and dedication. It was apparent to us that she could build on the successful program that has been developed over the past few years. We look forward to Meghan's impact on this program for a long time to come."
"I couldn't be more excited to join the Illinois Tech community and help lead such an amazing group of student-athletes," said Brady. "My predecessor did an excellent job building a strong lacrosse program that has found immense success in a short time. I am excited and eager to not only match the success, but to also surpass it and help take the Illinois Tech women's lacrosse program to another level."
Brady comes to Illinois Tech by way of Robert Morris University-Chicago, where she was tasked with rebuilding a program from scratch and handled all coaching and recruiting responsibilities. Prior to RMU, she served as an assistant at Elmhurst College for the 2015–16 school year, where she specialized in draws and held responsibilities in game planning, recruiting, player development, strength and conditioning, and team operations.
Prior to Elmhurst, Brady served as an assistant at Davenport University in Grand Rapids, Michigan. With Brady on staff as the team's defensive coordinator, Davenport amassed 16 wins in 2015 and proved to be one of the NAIA's strongest teams, reaching the MWLL National Championship game. In addition, Brady has served as Head Coach at two Chicagoland area high schools (Fenwick High School and Barrington High School) and with the American Youth Lacrosse Association.
"In the past, I have had to pleasure of working in many different sectors of not just coaching, but the workforce as a whole," said Brady. "I believe that each of these jobs has given me invaluable, transferable skills that will help me as the head coach at Illinois Tech. Working as a coach at various levels has not only taught me to be patient and how to connect with my players, but has also given me an understanding of the importance of conveying information in a digestible manner."
As an athlete, Brady was a standout at RMU-Chicago. She was a two-time All-American and All-Conference selection, helping to lead the Eagles to a National Championship in 2014 as Tournament MVP. She also was named the NAIA's Rookie of the Year in 2012.
"Meghan's has great experience as both a coach and a student-athlete in the Chicagoland area," said Assistant Director of Athletics Marc Colwell. "This will be helpful in continuing the excellence of the women's lacrosse program."
Illinois Tech Women's Lacrosse has experienced unprecedented success in just four seasons as a program. Illinois Tech finished 15-2 overall and 10-1 in the Midwest Women's Lacrosse Conference last season, earning a share of the MWLC's regular season title. This followed an eight-win improvement from the 2015 to 2016 seasons, as Illinois Tech finished 13-4 overall and 8-1 in conference play in 2016. The steady improvement has earned the program eight All-MWLC First Team players, three All-MWLC second team players, 16 MWLC All-Academic recipients, and the 2017 Midfielder and co-Attacker of the Year awards (Madison Meredith and Alyssa DeLuca). Kirk Lamitie also earned the MWLC's Coach of the Year in 2016.
The 2018 schedule will be revealed in the coming weeks. Live audio, video, and stats will be available for all home contests. The live audio will be powered by Illinois Media School.