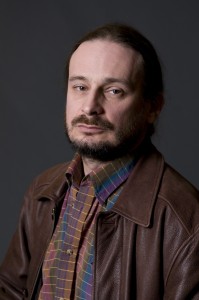 Associate Professor of Biology Nick Menhart was awarded a three-year research grant totaling $265,251 from the Muscular Dystrophy Association to study the properties of modified dystrophin proteins in Duchenne (DMD) and Becker (BMD) muscular dystrophies. In all, MDA selected 38 research projects totaling $12 million that focus on identifying the underlying causes of neuromuscular disease and finding treatments to slow, stop and reverse damage caused by disease processes.
Menhart's research includes the structure and function of dystrophin, the largest protein in the body and one subject to thousands of underlying defects, some inherited, some not. He has been instrumental in explaining how dystrophin functions and how defects might be "skipped," important for gene therapy and other treatment.
"One of the leading near-term prospects for meaningful treatment of DMD is exon skipping," Menhart said, in which cellular machinery cuts out flawed genetic instructions during protein synthesis, allowing for the production of shortened but at least partially functional dystrophin protein (deficient levels of dystrophin protein are the underlying cause of DMD and BMD).
There are alternative ways to skip portions of the dystrophin gene to effect the repair achieved with exon skipping. Each produces differently modified proteins, having different properties that, in turn, make them better or worse repairs.
Menhart and colleagues plan to characterize different "repaired" versions of dystrophin protein in an attempt to determine which are superior and which will be "maximally effective," in any given person, based on their specific genetic defect.
"This is clearly an exciting and even inspirational time in muscular dystrophy research, as exon skipping holds promise as perhaps a truly effective treatment for DMD," Menhart said. "A number of issues remain in translating this to a clinical setting, but so far … the outlook is good."
"We look forward to following Dr. Menhart's progress, and are excited and hopeful about the eventual development of exon skipping as a therapy for Duchenne muscular dystrophy," said MDA Interim President and Medical Director Valerie Cwik, M.D. "This research has the potential of refining the exon skipping strategy which is currently in clinical trials."
MDA is the nonprofit health agency dedicated to curing muscular dystrophy, ALS and related diseases by funding worldwide research. The Association also provides comprehensive health care and support services, advocacy and education.  In addition to funding some 300 research teams worldwide, MDA maintains a national network of 200 medical clinics; facilitates hundreds of support groups for families affected by neuromuscular diseases; and provides local summer camp opportunities for thousands of youngsters fighting progressive muscle diseases.  Follow MDA on Facebook and Twitter.