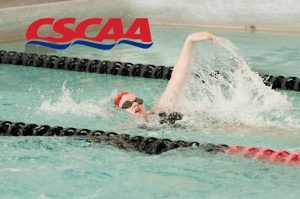 The College Swimming and Diving Coaches Association of America (CSCAA) has announced its Scholar All-America teams for the 2016 fall semester.
A record 638 teams, representing institutions from NCAA Division I, II, and III, NAIA, and the NJCAA, were named CSCAA Scholar All-America. Only programs that had a 3.0 GPA or higher for the fall semester were selected for this honor. Illinois Tech's women's team qualified with a 3.33 GPA, while the men's team received the honor with a 3.10 GPA.
The Illinois Tech Swimming and Diving teams will head to Elsah, Illinois, on Wednesday, February 8 for the Liberal Arts Championships at Principia College.