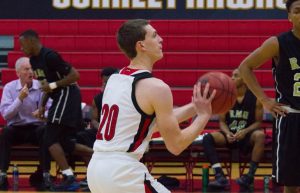 The Illinois Tech Men's Basketball team dominated from start to finish on January 13, overwhelming the Robert Morris-Springfield Eagles 100-60. It was the second time the Hawks cracked the century mark for points over the last two years, moving to 11-4 on the current season.
How it Happened
Illinois Tech built a massive 23-4 lead just seven minutes into the contest. Several Scarlet Hawks contributed during this stretch, including Jake Bruns, who drained his first three three-point attempts.
Jake Digiorgio and Max Hisatake controlled the paint in the first half, combining for 25 points and 17 rebounds. The duo's dominance led to a 32-13 first half rebounding advantage for the Scarlet Hawks.
Illinois Tech's lead continued to build, as the team received a boost off the bench from Brett Ott. His nine points helped the advantage increase to a staggering 56-21 halftime score.
The start of the second half was similar to the first, as the Scarlet Hawks managed to build the lead to as high as 47 at 70-23 with 15:29 left in the contest.
RMU-Springfield shot better the rest of the way, but Illinois Tech did not let up offensively. Illinois Tech reached the 100-point mark with 1:39 left to play with a Jason Morris Jr. jumper to cap off the scoring.
Scarlet Hawk Standouts
Ott had the best game of his Illinois Tech career, scoring 14 points and corralling six rebounds.
Digiorgio (20 points, 13 rebounds, two blocks) and Hisatake (18 points, 13 rebounds, four blocks) were dominant in the post.
Bruns finished with 13 points and three assists off the bench.
Anthony Mosley Jr. had a 10-point, four rebound, four assist night in just 19 minutes of action. He was a perfect 5-of-5 from the field.
Stats to Know
The shooting numbers were staggering, as Illinois Tech outshot RMU 57.5% to 32.4%. The Eagles shot just 20.0% in the first half.
Illinois Tech out rebounded RMU 62-26.
The Scarlet Hawks had 68 points in the paint, 32 second chance points, and 20 fastbreak points.
Up Next
The Scarlet Hawks will host Roosevelt University on Wednesday, January 17 at 7 p.m. Live audio, video, and stats will be available. The live audio will be powered by Illinois Media School.