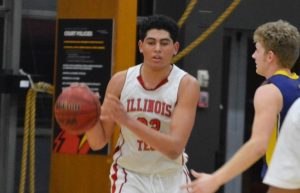 The Illinois Tech Men's Basketball team won its ninth game in a row on February 21 in dominant fashion. The Scarlet Hawks defeated Maranatha Baptist University in the Keating Sports Center 78-50, which is Illinois Tech's season-best for points allowed in a game this season.
How it Happened
It did not take long for the Scarlet Hawks to find a second gear on this night. Illinois Tech built a nine-point lead (15-6) after just 3:48 of action. Samuel Rarick scored six of the team's first eight points. Malik Howze also converted a four-point play at the 16:29 mark.
Illinois Tech's lead reached double-digits for the first time on a Parker Joncus three-pointer with 12:45 left in the first half (26-14). The Scarlet Hawks slowly built the lead as the half went on, reaching as high as 16 on several occasions. A Jake Bruns free throw at the end of the half put the Hawks up 17 (44-27) at the intermission.
Maranatha was able to slow the Scarlet Hawk offense at the start of the second half. Illinois Tech scored just four points and shot 2-of-11 from the floor over the half's first 5:38 as the Sabercats trimmed the lead to 12.
After a Richard Medina dunk for MBU at the 13:44 mark, the Scarlet Hawks went on an 11-0 to stretch the lead to 23 (61-38) with 8:28 to play. The lead in the half would reach as high as 29, which occurred with 3:20 to play (72-43) on Jake Digiorgio's second made three-pointer of the season.
Brett Ott and Brinden Carlson made three-pointers down the stretch for the Hawks as the team cruised to a 78-50 win.
Scarlet Hawk Standouts
Max Hisatake recorded a strong line in just 22 minutes of action. The freshman scored 14 points, pulled down 13 rebounds, and blocked five shots.
Rarick finished with 14 points, seven rebounds, and three assists.
Digiorgio had 13 points and nine rebounds off the bench.
Stats to Know
Neither team shot particularly well from the field. Illinois Tech was 41.5% (27-of-65), while MBU was 21-of-54 (38.9%).
The Scarlet Hawks controlled the glass, out rebounding the Sabercats 47-26.
Second chance points (15-4) and points off turnovers (15-2) were big advantages for the Hawks.
Up Next
Illinois Tech's final regular season home contest comes on Friday, February 24 at 7 p.m. against Emmaus Bible College. Live audio, video, and stats will be available. The live audio will be powered by Illinois Media School.