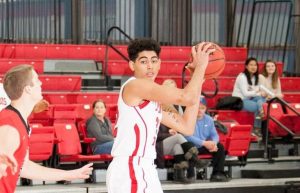 The Illinois Tech Men's Basketball team took on visiting Lakeland College at the Keating Sports Center on February 11. The Hawks had a 15-point halftime lead and never looked back as they defeated the Muskies 77-60.
How It Happened
The Hawks started out sluggish, going three-of-eight from the field and trailing 11-8 four minutes into the game.
Illinois Tech turned up the defensive pressure and got hot from the field as they went on an 18-4 run over the span of six minutes to take hold of the lead at halftime (40-25).
The Scarlet Hawks continued the strong play in the second half. Samuel Rarick scored five straight points to help build an 18 point lead (45-27).
Rarick (12 points) and Max Hisatake (11 points) both scored in double figures in the second half to lead the Hawks, outscoring the Muskies 37-35, and winning the game by 17 (77-60).
Scarlet Hawk Standouts
Rarick scored a team-high 22 points, grabbed seven rebounds, and tallied four assists. 
Hisatake tallied one of two double-doubles for the Hawks, scoring 19 points and grabbing 11 rebounds. He also went five-of-five from the charity stripe and had three blocks and two assists in 24 minutes of play.
Jake Digiorgio had the other double-double for the Hawks, going seven-of-13 from the field for 16 points and grabbing 14 rebounds. He was the only bench player to score.
Guard Malik Howze had a tough shooting night from three-point range (one-of-seven), but ended the game with 13 points, seven rebounds, and seven assists.
Stats to Know
Illinois Tech had a much better field goal percentage, going 32-of-68 (47.1%) compared to only 36.5% for the Muskies (23-of-63).
The Hawks struggled from three-point range, shooting 12.5% (two-of-16) as the Muskies saw some success shooting 36.8% (seven-of-19).
The Hawks grabbed 48 rebounds, out rebounding the Muskies by 17 (31).
Illinois Tech dominated the paint outscoring Lakeland 48-16.
Up Next
The Scarlet Hawks will play again on Tuesday, February 14, as they face Moody Bible at 7 p.m. in the Keating Sports Center. Video and stats will be available; live audio will be provided by the Illinois Media School.