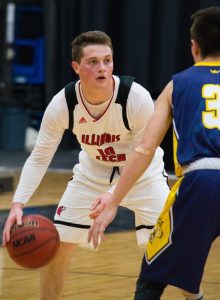 The Illinois Tech Men's Basketball defeated the visiting Maranatha Baptist Sabercats on January 25 at Keating Sports Center, earning a 63-49 victory.
How it Happened
The Scarlet Hawks got out to an early one-point lead (7-6) within the first five minutes. But the Illinois Tech offense began to struggle, shooting only 24% from the floor in the first ten minutes of the game. Jake Bruns emerged as the prominent scorer for the Scarlet Hawks—hitting six of his eight field goals for 17 points during the first period. Maranatha's Justin Blake was equally lethal from the floor, matching Bruns' 6-8 shot output and scoring 13 points to keep the Sabercats close.  Illinois Tech held a slim lead at halftime: 25-23.
Both squads traded baskets to begin the second half but the Hawks took at 33-27 lead after consistently feeding Max Hisatake in the post. Hisatake scored six of his eight points in the first five minutes of the second half. The lead extended to 12 at the 9:33 mark when Calvin Schmitz, Brinden Carlson and Parker Joncus all began draining three-point shots. A double-double from Jake Digiorgio helped close out the game for the Hawks. Illinois Tech held on to the lead and ran away with the game down the stretch, securing the victory 63-49.
Scarlet Hawk Standouts
Bruns led the Hawks all the way, scoring 22 points, grabbing three rebounds, and recording an assist and steal.
Two Scarlet Hawks came away with double-doubles. Hisatake scored 12 points and got 12 rebounds along two steals and blocks. Digiorgio also scored 12 points and took down a team-high 18 rebounds plus one steal and block.
Stats to Know
Illinois Tech won the rebound battle 45-38.
Assists were in favor of Illinois Tech (11-9).
Maranatha did not make a single three-point field goal; Illinois Tech made nine (9-21).
Up Next
The Scarlet Hawks will continue the home-stand, welcoming Moody Bible to the Keating Sports Center on Saturday, January 27 at 2 p.m.