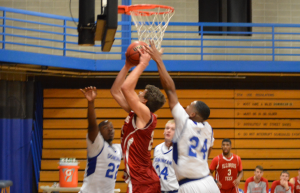 The Illinois Tech Men's Basketball team traveled to nearby Dominican University for a battle of two 2-2 teams. Despite out rebounding the Stars 40-29, the Scarlet Hawks fell 74-73.
How it Happened
Dominican's first four baskets came courtesy of three-pointers, as the Stars built an early 16-8 advantage. Illinois Tech fought back thanks to a couple of Samuel Rarick baskets and took a 22-20 lead on a transition three from Malik Howze with 9:20 left.
Illinois Tech continued to build the lead, as Jake Digiorgio provided three offensive rebound putbacks in the first half alone. The Scarlet Hawks led 40-35 at intermission.
Max Hisatake opened the second half with an emphatic block. Digiorgio followed suit with seven points over the first five minutes as Illinois Tech increased the lead to 13 with 11:59 remaining.
Illinois Tech went on a drought of almost six minutes, allowing Dominican to cut the lead down to one with under five minutes remaining. In a back-and-forth game down the stretch, Dominican's Connor Dartt hit a jumper from the free throw line with 3.8 seconds left. Illinois Tech was unable to score on the final possession.
Scarlet Hawk Standouts
Making his first start of the season, Digiorgio was dominant. He totaled a career-high 26 points to go along with 11 rebounds. Seven of the 11 rebounds came on the offensive end, where he tallied five put-backs alone. It was the fourth double-double in five games for the sophomore.
Howze just missed a double-double of his own. The transfer scored 20 points (four-of-seven from three, six-of-six from the free throw line) to go along with nine rebounds.
Rarick added 12 points and five rebounds off the bench to go along with four blocked shots. Hisatake also blocked four.
Stats to Know
On top of the 40-29 rebound advantage, Illinois Tech also outdid DU 12-9 on the offensive glass.
Both teams made 29 baskets and 10 free throws. Dominican drained one more three-point shot than the Scarlet Hawks, outdoing Illinois Tech 6-5 from downtown.
Illinois Tech committed 16 turnovers compared to Dominican's 10.
Up Next
The Scarlet Hawks will host Milwaukee School of Engineering on Saturday, December 3 at 3 p.m. in the Keating Sports Center. The home opener will have live stats, video, and audio, with the broadcast powered by Illinois Media School.