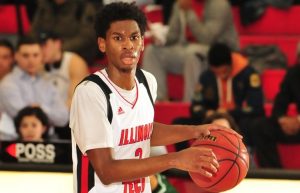 The Illinois Tech Men's Basketball team opposed fifth-seeded Rochester College on February 28 in the first round of the USCAA Tournament. The Warriors downed Illinois Tech 72-62 and the team is now 18-8 on the season.
How it happened
Rochester started the game fast, building an eight point lead (12-4) in the first five minutes. Anthony Mosley Jr. scored Illinois Tech's first four points.
The Warriors continued to build the lead as high as 16 (27-11) with 4:47 left. Turnovers plagued Illinois Tech, as the Hawks had 12 over the same span.
A fresh new five scored some buckets for the Hawks before halftime but the Warriors still held a big advantage (39-16).
In the second half, Rochester picked up where it left off. The Warrior lead increased to 29 (50-21) before the next media timeout.
The Scarlet Hawks worked to get the advantage back to 20 (56-36) at the 9:00 minute mark on a Jake Bruns three-pointer.
Illinois Tech continued to surge over the next five minutes, cutting the lead down to 13 with 4:20 left thanks to two Malik Howze three-pointers.
The Scarlet Hawks cut it to 10 on a Mosley Jr. and-one with 1:44 left to play. Over the next minute, the teams traded baskets as Howze continued to drain from beyond the arc. Howze hit his fifth three of the half with 30 seconds left to make the score 68-61. But Rochester was able to extend the lead to its final score over the last half minute.
Scarlet Hawk Standouts
Mosley Jr. ended with 20 points, four rebounds, and three assists.
Howze's strong second half gave him 19 points with seven rebounds.
Stats to Know
Turnovers led to Illinois Tech's early demise, with 13 in the first half and  at total of 18 on the night.
Rochester shot 81.8% from three-point land in the first half and 55.6% for the game.
Overall shooting was also in favor of the Warriors, as Rochester outdid the Hawks 46.3% to 37.3%.