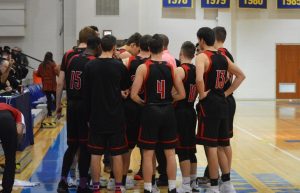 The Illinois Tech Men's Basketball team trekked north on November 29 to take on UW-Platteville. Illinois Tech fell to the Pioneers 89-54 to move to 4-2 on the season.
How it Happened
The Pioneers scored on their first possession of the contest, setting a tone for the first half. Illinois Tech struggled offensively early on, allowing the Pioneers to build an 11-point advantage with 11:47 remaining in the first half.
UW-P's lead reached as high as 19 in the first half, but the Scarlet Hawks were able to trim the lead to 13 (45-32) at halftime.
The Platteville lead only increased in the second half as the Scarlet Hawks' offense continued to struggle. The Pioneers outscored the Scarlet Hawks 44-22 in the second half en route to the victory.
Scarlet Hawk Standouts
Jake Digiorgio led the Scarlet Hawks with a double-double of 18 and 10.
Malik Howze scored 12 points on seven-of-eight free throw shooting.
Stats to Know
The match marks the first time Illinois Tech has lost consecutive games since January 7 and 10 of last season.
The loss is Illinois Tech's largest margin of defeat since February 6, 2016 when the Hawks fell 119-59 at Monmouth.
Up Next
The Scarlet Hawks will travel to Michigan on Saturday, December 2 to oppose Albion College at 2 p.m.