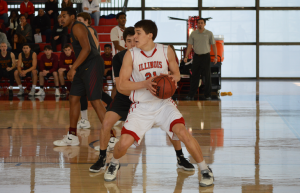 The Illinois Tech Men's Basketball team put forth a dominant effort on November 26 to win its first game of the season. Taking on Kalamazoo College at the Oberlin College Tournament, the Scarlet Hawks won 88-79.
Records
Illinois Tech 1-2, Kalamzoo 2-2
How it Happened
Scarlet Hawk Standouts
Digiorgio tallied 15 points and 11 rebounds off the bench, his second double-double in just three games. He also tallied two steals and two blocked shots.
Rarick had his best game of the season to date, leading all scorers with 22 points on nine-of-15 shooting (60.0%).
Mosley Jr. had a solid all-around game, scoring 16 points to go along with eight assists, five rebounds, and three steals.
Howze (14 points) and Joncus (11 points) also scored in double-digits.
Stats to Know
Illinois Tech shot 48.4% compared to Kalamazoo's 42.9%.
The three-point line proved to be a big difference, as Illinois Tech's eight-of-17 (47.1%) outdid K-Zoo's two-of-12 (16.7%).
Bench scoring was even at 23.
Up Next
Illinois Tech will play on Sunday, December 4 at 1 p.m. against host Oberlin. Oberlin will provide live stats and a live webcast of the contest.