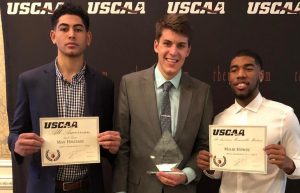 Jake Digiorgio (First Team), Max Hisatake (Second Team), and Malik Howze (Honorable Mention) were named USCAA All-American at the United States Collegiate Athletic Association Winter Championships banquet on February 27.
Digiorgio, the team's captain and starting power forward, had a banner year for the Scarlet Hawks with career highs in points (14.0) and rebounds per game (11.7, second in USCAA). He had a total of 12 double-doubles and 16 games with double-digit rebounds thus far, which included a streak of 14 games with 10 or more rebounds spanning between December 10 and February 7. On January 31 against Dominican, he passed Samuel Rarick to rank first all-time in rebounding at Illinois Tech in the Division III era (currently with 826 rebounds). He is a one-time Player of the Week selection by both the USCAA and Association of Division. His best game of the season was possibly when he recorded career-highs of 28 points and 21 rebounds in one of Illinois Tech's biggest wins of the year: an overtime victory over Carthage College on January 6. The native of the upper peninsula of Michigan is only one of two Scarlet Hawks to start every game this season and has yet to miss a game in his three-year career.
Breaking out in his sophomore season, Hisatake was a force at center for the Scarlet Hawks. He recorded averages of 12.4 points, 10.3 rebounds, and 2.6 blocks per game, with his block (third) and rebounding (fourth) numbers ranking amongst the USCAA's Top 10. He also ranked 19th in shooting percentage (54.2%) and is a one-time USCAA Player of the Week selection. Like Digiorgio on the glass, Hisatake set the D3 era school record for blocks on December 18 against Fontbonne and now sits at 133 for his career. He's recorded nine double-doubles and five games with more than five blocks this season, including a nine-block performance in a win over Robert Morris-Peoria on February 7. His season highs in points (22, on February 1 at Maranatha) and rebounds (18, on November 18 at North Park) also helped Illinois Tech earn victories.
Howze, a Detroit native and combo guard, earns All-American honors for the second straight season. An Honorable Mention last year by the USCAA, Howze has posted averages of 13.7 points, 4.2 rebounds, and 3.7 assists this season. Playing in 21 contests this season, he poured in 20 or more points six times, including a season-high 25 in a win at Albion on December 2. He also recorded a season-high of nine assists in the same game. Howze was also a Player of the Week Selection by the AD3I this year.