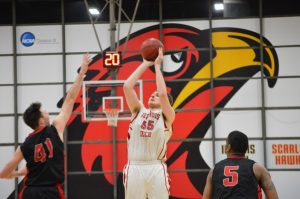 The Illinois Tech Men's Basketball team won its 20th game overall, 10th game in a row, and moved to a perfect 11-0 at home with another dominant victory. On Senior Night, the Scarlet Hawks downed Emmaus Bible College 86-61.
How it Happened
Emmaus was the team that started the game out on a strong note, building an early 10-4 lead at the 15:26 mark.
A Parker Joncus three-pointer with 14:58 to play in the half began to turn the tide for Illinois Tech. The two teams played evenly until Samuel Rarick hit a pair of free throws to put the Hawks up 21-19 with 9:17, never trailing after that point. It was two of eight straight Rarick points for Illinois Tech.
Over the final 6:34 of the first half, the Scarlet Hawks went on a 29-4 run to open up a 54-28 halftime lead. The Scarlet Hawks caught fire from downtown, as six of the team's final seven possessions ended with a completed three-pointer. Malik Howze hit four three-point shots and scored 16 points during the 29-4 run.
Illinois Tech picked up right where it let off to begin the second half, building a lead that reached as high as 36 (79-43). The early portion of the second half was highlighted by a monster Max Hisatake dunk.
Emmaus managed to get some offense going behind 10 Nick Fairley points, but it wasn't enough as the Scarlet Hawks cruised to a 25-point win.
Scarlet Hawk Standouts
Rarick went out in style on his senior night. The senior scored 21 points and tallied 10 rebounds, going seven-of-11 from the floor.
Howze scored 21 points of his own on eight-of-11 shooting (four-of-six from downtown).
Hisatake (11 points, nine rebounds, three steals, two blocks), and Jake Bruns (10 points, team-high six assists, three steals) scored in double figures off the bench.
Stats to Know
There were 70 total bench points in the contest. Illinois Tech won the battle of the benches 40-30.
Illinois Tech out rebounded Emmaus 46-35.
Illinois Tech recorded just 10 turnovers.
The Scarlet Hawks shot 81% from the free throw line (17-of-21) while Emmaus was just 54.5% (six-of-11).
Up Next
The Scarlet Hawks are the fourth seed in the USCAA Tournament in Uniontown, Pennsylvania, next week. Illinois Tech will take on #5 Florida College on Wednesday, March 1 at 3 p.m. CST. Live links and all information will be made available on www.illinoistechathletics.com.