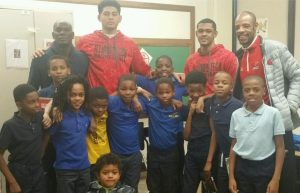 Throughout the winter, members of the Illinois Institute of Technology Men's Basketball team volunteered to mentor and tutor third and fourth graders at Drake Elementary in Chicago. The students have also served as honorary ball boys and team managers at Men's Basketball games.
"Every Wednesday and Thursday, our players go to Drake Elementary where they read and tutor students in certain subject areas," said Head Coach Todd Kelly. "Our guys try to be positive role models for the kids by encouraging them to get good grades and be involved sports."
The opportunity to mentor elementary school students is also a great experience for the student-athletes.
"I really enjoy being able to speak to them at their school, and seeing them all come to our games is awesome," said Men's Basketball student-athlete Jason Morris. "The kids are great, and I really look forward to working with more as a tutor and mentor."
For additional news and community works regarding Illinois Tech Athletics, visit www.illinoistechathletics.com and follow the department's Facebook, Twitter, and Instagram accounts.