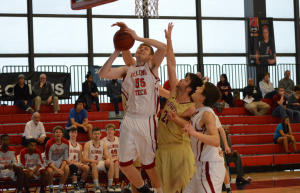 For the first time since the Men's Basketball program was re-introduced in 2011-12, the Scarlet Hawks are above .500. With Illinois Tech's 90-75 win over Fontbonne University in St. Louis, the Scarlet Hawks now sit at 4-3 on the season.
How it Happened
After a back-and-forth early portion of the contest, Anthony Mosley Jr. hit a groove offensively. He scored 10 points in a span of just over three minutes, propelling Illinois Tech to a 25-16 lead.
Jake Digiorgio scored the final four Scarlet Hawk points of the half as Illinois Tech took a 43-32 lead into the intermission.
A balanced Scarlet Hawk offensive attack allowed the lead to keep building. Five straight points from Malik Howze pushed the lead to 20 with 10 minutes remaining.
The lead would reach as high as 25, as a Mosley Jr. free throw stretched the advantage to 88-63 with 4:04 left to play. The Scarlet Hawks survived a late Griffins run to win 90-75.
Scarlet Hawk Standouts
Mosley Jr. put together one of the most efficient games of his collegiate career. The sophomore tallied a double-double with 23 points and 10 assists. He also was eight-of-nine from the floor, three-of-three from beyond the arc, and contributed three steals.
Samuel Rarick tallied his first double-double of the year with 18 points and 12 boards.
Digiorgio scored 21 points on a perfect seven-of-seven shooting from the field. He was also seven-of-10 from the free throw line.
Howze added 16 points and five rebounds.
Stats to Know
The Scarlet Hawks shot 55.9% from the floor compared to Fontbonne's 42.4%.
Both teams shot the same amount of free throws (29), with the Scarlet Hawks making 19 compared to Fontbonne's 18.
Illinois Tech won the battle on the glass 36-31.
Up Next
Men's Basketball will head to California for games on Saturday, December 17 at UC Santa Cruz at 5 p.m., and Sunday, December 18.