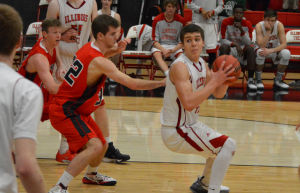 The Illinois Tech Men's Basketball team opened the 2016–17 season at Anderson University on November 15. The Scarlet Hawks fell to the Ravens 110-82.
How it Happened
After a pretty even first five minutes of play, the Ravens made a big run in the middle of the first quarter. With the score tied 12-12, AU managed to put together a 30-15 run over the next 11 minutes to take a 15 point lead.
A balanced offensive attack helped the Scarlet Hawks to close out the first half strong, trimming the deficit to 12. Anderson led 53-41 at halftime.
In the second half, Anderson started strong, building the lead to 19 at the 13:47 mark.
Illinois Tech, however, would mount a run behind the offense of Malik Howze. The sophomore transfer scored 10 points on what was a 14-3 Scarlet Hawk run. Anderson led 72-64 with 9:03 to play.
The Ravens would get hot down the stretch, scoring 38 points over the final nine minutes to pull away.
Scarlet Hawk Standouts
In his first game as a Scarlet Hawk, Howze led Illinois Tech with 25 points on eight-of-17 shooting. He was also eight of 12 from the free throw line, leading all players in free throw attempts.
Jake Digiorgio had a double-double off the bench, tallying 13 points and 10 rebounds with two blocked shots.
Freshman Max Hisatake was impressive in his collegiate debut, scoring 14 points on six-of-nine shooting in just 22 minutes. He also blocked two shots.
Anthony Mosley Jr. scored 13 points and tallied six assists.
Stats to Know
Three-point shooting was heavily in favor of the Ravens. AU was 13-of-26 (50.0%), while Illinois Tech was just two of six (33.3%).
Illinois Tech out-rebounded the Ravens 33-30.
The Scarlet Hawks committed 20 turnovers compared to just 13 for AU.
Up Next
Illinois Tech will play its next game on Tuesday, November 22 at the University of Chicago. The game is set to begin at 8 p.m.