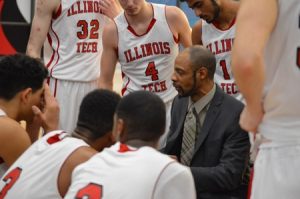 For the first time in program history, the Illinois Tech Men's Basketball team has qualified for the United States Collegiate Athletic Association's National Championships. Illinois Tech will be the fourth seed in the eight-team tournament, which will take place from Tuesday, February 28 through Saturday, March 4 in Uniontown, Pennsylvania, on the campus of Penn State-Fayette.
The Scarlet Hawks have enjoyed the strongest campaign of Head Coach Todd Kelly's three-year tenure and best season since the program was brought back in 2011-12. With an 18-5 record, the Scarlet Hawks have improved by 14 wins from last season with still two regular season contests left to play.
Tournament format consists of eight-team bracket play with consolation matchups after the first round. As the field's fourth seed, the Scarlet Hawks will oppose the fifth seed, Florida College, on Wednesday, March 1 at 3 p.m. CST in the campus' main arena. A win would advance the Scarlet Hawks to the Thursday, March 2 winner's bracket matchup at 7 p.m. CST. If the team loses the March 1 game, they'll compete in a consolation matchup on March 2 at 10:15 a.m. CST.
A full tournament schedule for the Scarlet Hawks will be posted at www.illinoistechathletics.com when made available. All of the Championship's matches will be live streamed and have live statistics at basketball.theuscaa.com, which also is the place to go for all Championship information.
Prior to heading to Pennsylvania, the Scarlet Hawks will host two games this week in the Keating Sports Center. The Scarlet Hawks will take on Maranatha Baptist on Tuesday, February 21 at 8 p.m. and Emmaus Bible College on Friday, February 24 at 7 p.m. Live audio, video, and stats will be available for both of those contests, with the live audio powered by Illinois Media School.