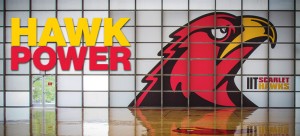 The Illinois Institute of Technology Men's Basketball team has released its 2016-17 schedule. It features a trip to Santa Cruz, Calif., six straight home games in the month of February, and 11 total home contests at the Keating Sports Center.
"Our 2016-17 will be very challenging and show us exactly where we are as a program," said Head Coach Todd Kelly, who is entering his third season at the helm. "The schedule features several teams with a great shot at reaching the NCAA Tournament. I think we should be very competitive this season with more experience now on our roster."
After a home scrimmage against Concordia University Chicago on Saturday, November 5 and a road exhibition at Division I opponent Chicago State University on Friday, November 11, the Scarlet Hawks will open the regular season schedule with five contests away from home in November. Anderson University will be Illinois Tech's first opponent, as the Scarlet Hawks will travel to Indiana on Tuesday, November 15.
The home schedule opens up on Saturday, December 3. Illinois Tech will play host to Milwaukee School of Engineering for a 3 p.m. tip-off in the Keating Sports Center. Illinois Tech will follow up the home contest with a nine-day break for finals week, returning to game action on Monday, December 12 at Fontbonne University.
Game times will be posted on the Men's Basketball schedule page as they become available. Live audio, video, and statistics will be provided for all home contests. Home broadcasts will be powered by Illinois Media School.
View the full 2016-17 schedule here.