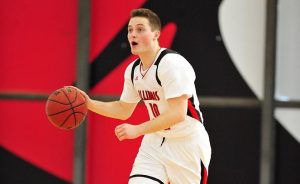 The Illinois Tech Men's Basketball team has released its 2018–19 schedule. The Scarlet Hawks will play 25 regular-season contests as full first-year NCAA Division III and Northern Athletics Collegiate Conference (NACC) members.
The Scarlet Hawks, who are coming off of a 19–8 season and have won 41 contests over the last two years, will begin 2018–19 with an exhibition at nearby NAIA opponent Roosevelt University on Thursday, November 8 at 6 p.m. Just five days later, Illinois Tech's first regular season game will be on the road against Trine on Monday, November 12 at 7 p.m. This is a rematch against the Thunder, whom Illinois Tech defeated in the Keating Sports Center 65-56 a season ago.
Live audio, video, and stats will be available for every home contest at the Keating Sports Center. The live audio will be powered by Illinois Media School.